Two Part Liquid Void Filler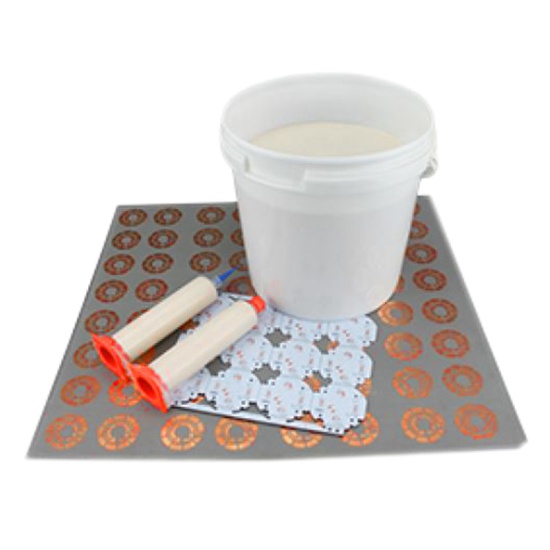 LVF-10
Product Description...
A two-part silicone-based liquid with heat conducting filler and binding materials. When the compound is mixed and cured it acts as a thermally conductive void filling material.
Features and Benefits...
Good Thermal Conductivity
Excellent Dielectric Performance
Long Life Span
Weather Resistance
Low Mechanical Stress
Vibration and Shock Absorbance Properties
Applications...
Electronic shielding of wiring & high-end electronic products like:
Electronic assemblies, thermistors, temperature sensors, power modules.
Product Data...
Properties
Unit
LVF-10
Test method
Colour
-
Part A: White
Part B: Grey
Visual
Thermal Conductivity (±10%)
W/mK
1.0
ASTM D5470
Viscosity (Mixed)
Pa
20-50
ASTM D2196
Breakdown Voltage (1mm)
KV
≥5
ASTM D149
Specific Gravity
g/cm3
1.88
ASTM 5740
Working Temperature
◦C
-40 to 180
EM344
Volume Resistance
Ohm-cm
≥1012
ASTM D257
Flammability Rating
-
V0
UL 94
Hardness (±5)
Hardness, Thirty second delay (±5)
Shore 00
Shore 00
50
25
ASTM D412
ASTM D412
Surface Drying Time (25◦C)
min
20-30
-
Curing Time (25◦C)
Curing Time (60◦C)
Curing Time (100◦C)
min
min
min
≥50
10-15
5-10
-
-
-
Notes:
Custom dispensers and containers to suit volume requirements
Mix ratio by Weight or Volume 1:1
The above performance data is tested in an environment of 70% humidity, temperature 25℃.
This data is intended for reference purposes only. It is recommended that the material is tested to fully evaluate its performance ensuring it is fit for purpose.
Other products in this range...