Conductive Fabric Over Foam Gaskets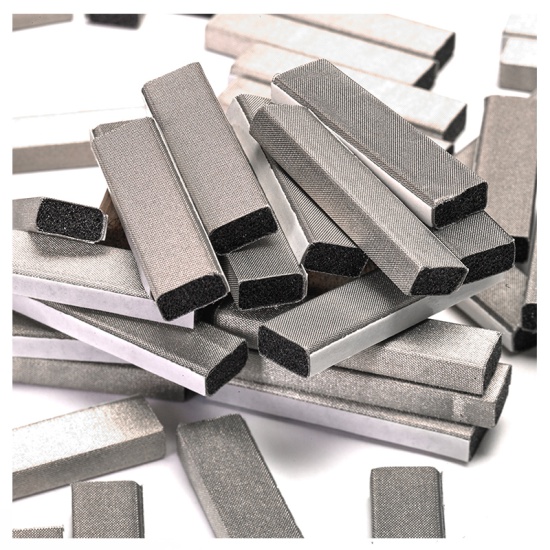 C-F FOF A0/A1
EMI gaskets are electrically conductive polyester fabric wrapped around a low compression force PU foam. Ideal for gaskets for use on doors and panels. Customer specific gasket profiles can be supplied.
The combination of Nickel & Copper (Ni/Cu) woven metal fibres provides excellent conductivity and shielding effectiveness (>80dB) over 100KHz to 1GHz frequency range.
Supplied with either a Conductive or Non-Conductive pressure sensitive adhesive (PSA).
Customised shapes and dimensions available.
Features and Benefits...
Highly conductive to provide good EMI shielding and grounding.
Very soft for Low Compression Force applications, allows use of lighter materials.
Nickel/Copper fibre ensures good oxidation and corrosion resistance / galvanic compatibility with a wide range of plated and stainless-steel surfaces.
Flame Retardant gaskets available – UL94 HB and UL94 V0 flammability rating.
Abrasion-resistant fabric, high reliability and virtually no degradation in shielding performance after 1 million cycles.
Broad range of cross-section profiles available to suit specific applications – D-shape, Rectangle, Bell, Square (see part numbers).
Gaskets can be supplied cut to length ready for assembly.
Halogen-free products are available upon request.
Applications...
Electronic shielding of wiring & high-end electronic products like:
Medical equipment, Cabinet applications
Plasma PDP and LCD TV / Displays
Broadcast & Communications equipment
Mobile Phones, Notebook, Laptop & Desktop Computers
X-Ray equipment
Enclosures – Server racks, Data Cabinets
Access Control Units
Military & Aerospace equipment.
Product Data...
| Properties | C-F FOF A0/A1 | Unit | Test Method |
| --- | --- | --- | --- |
| Shielding Efficiency (100KHz – 1GHz) | ≥80 | dB | - |
| Abrasion Resistance | 1,000,000 | Cycles | - |
| Surface Impedance | ˂0.05 | Ohm | - |
| Fire-Proof Level (Flammability Rating) | UL94 HB & UL94 V0 | - | IEC 60695-11-10 UL 94 |
| Hazardous Substance | RoHS Compliant | - | Pass |
Notes:
Customised shapes are available;
The above performance data is tested in an environment of 70% humidity, temperature 25°C
This data is intended for reference purposes only. It is recommended that the material is tested to fully evaluate its performance ensuring it is fit for purpose
Other products in this range...